Hymnal for Dirty Girls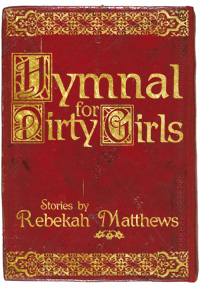 Hymnal for Dirty Girls
Stories by Rebekah Matthews
Order the book now:
From Bedroom:
I buy perfume almost exactly like yours, and I shave off the hair
on my toes, and I don't touch anybody.
I think about how, when you recommend me books to read, you write the
titles on the backs of receipts, and I keep the receipts in my purse,
and when I feel lonely I take them out and look at them for too long.
Rebekah Matthews' debut collection snaps with poignant and sharp-edged stories, charged with angst and unrequited love. Her characters evolve before our eyes, learning how to love in the strange confines of normalcy. In these six wonderful melancholies, we travel from a suburban Red Lobster to a Baltimore sex stakeout, from brief earthly heavens and to a very literal Hell. The characters grapple with loss, survival, and faith as they try to navigate the complicated ins and outs of the everyday world. In "Reasonably In-Shape Women," a young woman attends a backyard barbecue where she witnesses an affecting act of love, in "Worse Than," a high school student learns the power of storytelling, and in "Heaven for Everyone" a cancer patient faces her own mortality. On every page, Matthews exposes our fears and illustrates our reactions to them as something very beautiful.
"Although Matthews does not shy away from sex as an element of the collection, it is not the collection's overt focus. And nor could any of the characters be considered 'dirty girls.' These are polite and kind young women—lost perhaps, unmoored, but never vulgar or offensive. Most are lesbians, and so the juxtaposition of the word hymnal with that confrontational label dirty girl becomes, through the stories, a fantastic subversion of the very idea that these women are in any way 'dirty.' Here is a book of love songs, really, ballads for those who may be asked too often and too unfairly to 'explain themselves.'" – Necessary Fiction